What are Economies of Scale?
An example of economies of scale is when you buy an item in bulk because buying more ultimately means that you're getting each unit at a lower price. For businesses, cost savings occur as a result of making more products. What this means for companies is that a business can increase its profits by making their production processes more efficient, rather than increasing the price of a product. 
Economies of scale can be achieved in various parts of the business: 
Centralized facilities

Staffing

Policies

Purchasing
The Procurement Process and Economies of Scale
An efficient procurement process is just one way in which businesses can achieve economies of scale. An efficient procurement function can provide many financial benefits to an organization, helping them further achieve economies of scale. 
Shared Business Functions: A purchasing system can help businesses share information and duties across all departments. If a business has an accounting department in another location, they can easily collaborate with other departments using one platform. 
Staff Efficiencies: The automation that can be achieved with a procurement process will require fewer employees, or can make employee's tasks simpler so that they can get more done. 
Purchasing: When it comes to purchasing, buying in bulk can cut costs. Larger spend and greater purchasing leverage can result in reduced prices and costs. 
Data: Procurement software offers greater and more efficient data for financial and inventory records, making it easier for business owners to make decisions and save on costs. 
Further Cost Savings: With lower supply and service costs, there is potential for higher bottom-line profitability. Cost reductions can be quantified, projected, reported, and audited. 
Centralizing Purchase Function of a Business 
Economies of scale are all about the cost-savings that allow businesses to make more of a product for less. Centralization of the purchasing process can offer real-time analytics about the financial benefits that come from this type of scale and growth. An effective procurement function allows for:
Organized Planning: With an effective procurement process, your department will be able to develop a plan to address expense categories over a certain period of time. 
Specialization: Your purchase department will be able to organize staff around products, supplies, and services to improve results and boost sales. 
Supplier Relationships: Purchasing teams will be able to more easily determine the interest, capabilities, competitiveness, and financial strength of suppliers. This process will eliminate suppliers that may not be ideal to work with. 
By vetting suppliers, you will have a list of fewer supplies which helps keep costs to a minimum as only this small amount of "verified" suppliers is paid regularly. 
Profitability and Growth: Cost reductions from an efficient purchasing department will reduce overall costs and increase profits.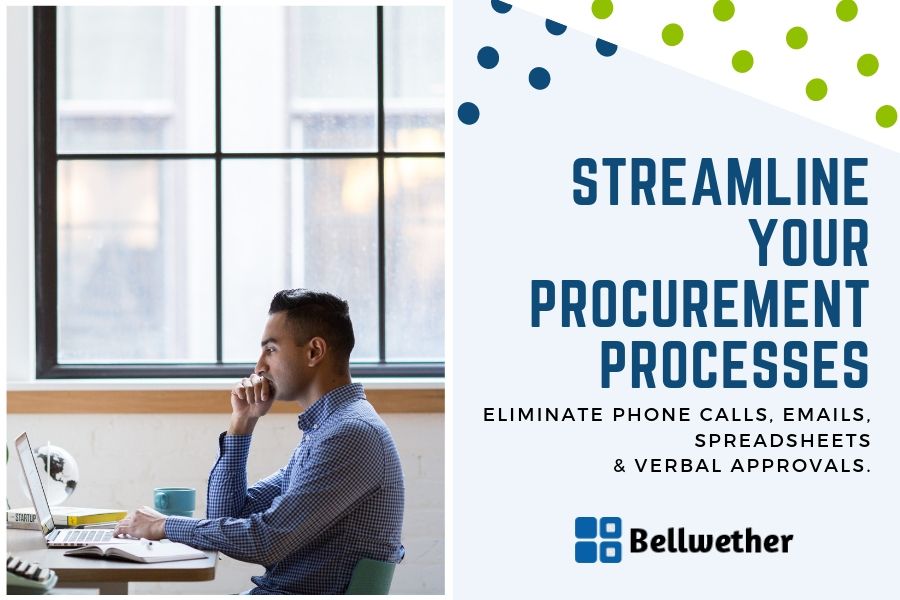 Purchase Order Software
Businesses are finding out that a simple, manual spreadsheet is not enough to create an efficient purchasing team. Instead, robust purchase order software can help keep costs down and improve profitability, helping businesses achieve economies of scale. Effective procurement software should feature:
Integrations
Whether you're an e-commerce business or a brick and mortar store, odds are most of your products are featured on a website where customers can make buying decisions from the comfort of their own home. What you may not know is that selling products online can dramatically improve your PO process. 
By synchronizing actions from different platforms, such as your website, you can put your data in one spot. Instead of using dashboards from the various marketplaces in which you sell your products, you can integrate your software to show all business information in one platform. 
The best procurement software will also be able to integrate with programs you are already using, like QuickBooks. While these business accounting programs are great, they don't provide the best data when it comes to purchasing. By integrating your new PO software with QuickBooks, you can more easily make business decisions based on real data. 
Increased Automation
To keep costs down, it's important to automate any functions within your business that you can. Automation can streamline the procurement process while reducing errors and the cost of the process, making your employees more efficient. With procurement software, you should be able to approve requisitions quickly and easily, instead of waiting for another person to sign off on any sales related inquisitions. Automation can also allow you to quickly turn a purchase order into an invoice, documents crucial for business management and budgeting. 
Improved Communication 
Purchasing is all about effective communication. The entire process relies on communication, and without it, you may face delays and disruptions that can damage your existing customer/supplier relationships and cost you money in the long run. Purchase orders need to be transferred to departments in order to improve workflows. You'll also need to be able to easily pass along PO's and create invoices for the accounting department. 
Internal communication is also essential to the efficiency of your entire business. Information on customers and suppliers needs to be accessible across departments. Purchase order software allows for seamlessly transferable information. Databases can often be difficult to use across departments and may require additional training that will take time. This can cause a breakdown in the procurement process, ultimately negatively impacting the customer experience. Purchase order software allows data and information to be shared across departments for a quick and thorough sales process. 
Product Inventory Control
Your business relies on your inventory. If a customer purchases something from your business, they'll want to know that they can rely on you to deliver. If you are out of stock and didn't know until you received that order, your customer probably won't be coming back. 
As your business grows, it can be difficult to keep track of all of your inventory. You should always know how many of each product you have in stock so that you can avoid problems with customers in the future. An effective procurement process will be able to keep track of all incoming and outgoing orders and track your inventory to make sure you have enough when you need it.