Not many people realize that most of the procurement-related documents like POs, RFQs, and others are in fact legally binding. And for that reason, they are written in a formal manner using specific terms.
Take a quick glance at any such document and you'll come across many such terms that sound like boilerplate but actually carry specific meaning. So if you wish to excel in your job as a purchasing manager or supply chain manager, it is important that you understand the exact meaning of those terms along with their intricacies.
Let's take a closer look at 21 of such commonly used procurement terms:
20% Rule
This means that if an agency is buying product and also needs to buy ancillary services (e.g.: consulting and training) under the same contract for the purposes of customizing the product, or product roll-out and implementation, the agency may be able to purchase those services up to 20% of the value of the product and first year's maintenance.
Agency Specific Contract
Agency Specific contracts are contracts where the specifications for a Product or a particular scope of work are described by centralized procurement to meet the needs of one or more specific agency's needs.
Aggregated Buy
An Aggregated Buy is the process whereby an Authorized User determines the specific contractor and final pricing for the purchase of a product, service or system on behalf of more than one Authorized User.
Ancillary Product
An ancillary product is a product which is purchased or licensed on a restricted use basis in conjunction with the principal manufacturer's product being acquired.
As Specified Contract
As Specified contracts are contracts where the specifications for a Product or a particular scope of work are described and defined to meet one individual agency's needs.
Best Value
A Best Value award is one that optimizes quality, cost and efficiency, typically applies to complex services and technology contracts, and is quantifiable whenever possible.
CL / Circular Letter
A CL or circular letter is a mechanism used to inform customers of PSG initiatives, categorical happenings, etc.
Direct Buy
The ability for an Authorized User to buy directly from an OGS contract using its standard form, format or purchase order, and which does not require a mini-bid, best and final negotiation, creation of a procurement record, or other required process, prior to making the buy.
Letter of Acceptance
A Letter of Acceptance is a letter to the successful bidder(s) indicating acceptance of its bid in response to a solicitation.
Life Cycle Costs
Life Cycle Costs are defined as the sum of the fees and indirect costs in the purchase of a commodity, service or technology.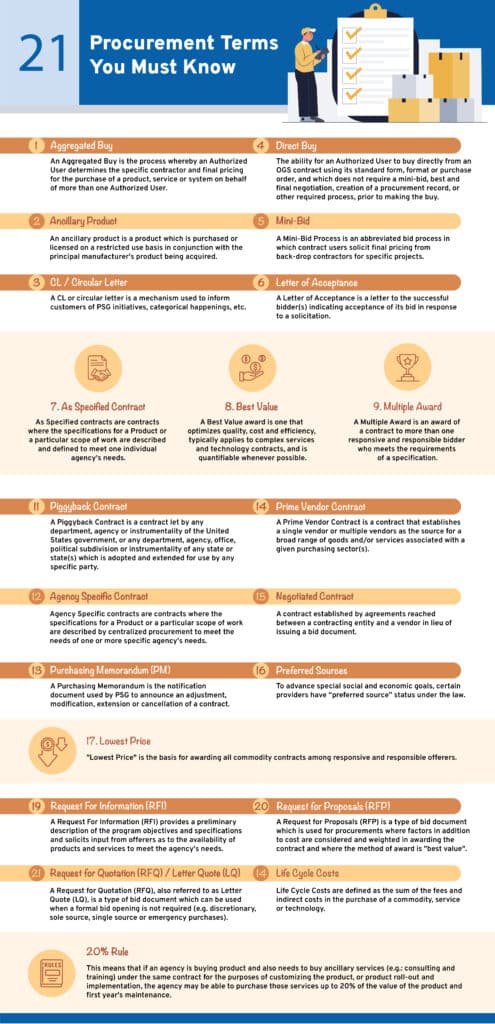 11. Lowest Price
"Lowest Price" is the basis for awarding all commodity contracts among responsive and responsible offerers.
12. Mini-Bid
A Mini-Bid Process is an abbreviated bid process in which contract users solicit final pricing from back-drop contractors for specific projects.
13. Multiple Award
A Multiple Award is an award of a contract to more than one responsive and responsible bidder who meets the requirements of a specification.
14. Negotiated Contract
A contract established by agreements reached between a contracting entity and a vendor in lieu of issuing a bid document.
15. Piggyback Contract
A Piggyback Contract is a contract let by any department, agency or instrumentality of the United States government, or any department, agency, office, political subdivision or instrumentality of any state or state(s) which is adopted and extended for use by any specific party.
16. Preferred Sources
To advance special social and economic goals, certain providers have "preferred source" status under the law.
17. Prime Vendor Contract
A Prime Vendor Contract is a contract that establishes a single vendor or multiple vendors as the source for a broad range of goods and/or services associated with a given purchasing sector(s).
18. Purchasing Memorandum (PM)
A Purchasing Memorandum is the notification document used by PSG to announce an adjustment, modification, extension or cancellation of a contract.
19. Request For Information (RFI)
A Request For Information (RFI) provides a preliminary description of the program objectives and specifications and solicits input from offerers as to the availability of products and services to meet the agency's needs
20. Request for Proposals (RFP)
A Request for Proposals (RFP) is a type of bid document which is used for procurements where factors in addition to cost are considered and weighted in awarding the contract and where the method of award is "best value".
21. Request for Quotation (RFQ) / Letter Quote (LQ)
A Request for Quotation (RFQ), also referred to as Letter Quote (LQ), is a type of bid document which can be used when a formal bid opening is not required (e.g. discretionary, sole source, single source or emergency purchases).
Hope this infographic cleared many of your doubts about these terms and will make you more informed about the procurement documents. Feel free to share this infographic with your team to ensure everyone is aware of these specifics.