As a businesses operator, you know how extensive and complicated the purchase order process can get, especially without the right tools in place to help streamline workflows and improve businesses operations. Optimizing the purchase order process is the easiest way to simplify the process and make it less complicated for yourself and your employees.
What are the advantages of optimizing your purchase order process?
Your purchase order process can be as simple as you need it to be to effectively manage your business and make your entire procurement process more efficient. When using purchase order software to optimize your process, you'll find many benefits for your entire business.
Minimize Risk
Purchase order management software allows business to automate all documents and records throughout the entire procurement process to display order details, costs, payment terms, and service terms. This will easily minimize risk and greatly reduce the chances of being caught up in legal disputes with vendors who may have made a simple mistake easily corrected by maintaining the correct documentation at all times and at all steps throughout the procurement process.
Budget Management Made Simple
With all of your purchase orders and invoices in one easy-to-find location, you can more effectively manage your budget to save your businesses money. While you'll be able to see purchase orders as they come in, you can also include purchase orders of your own to more effectively take a look at current budgets to save money and the time it takes to handle an overly complicated budget.
Compliance
Matching orders, running audits on inventory, and identifying important documents and invoices is easy with procurement software. Ensuring compliance is important in all businesses and can become more difficult as the businesses achieves success and grows. By optimizing the purchase order process, you can more effectively ensure the compliance necessary to keep your business running.
Improve Business Relationships
Purchase order software can help businesses manage order expectations and remind your business of important information crucial to developing and maintaining beneficial buyer-vendor relationships. You can easily create a document that allows negotiations to start-off in the right direction with pricing and terms being outlined clearly and agreed to quicker. You can then easily review contracts and terms to make sure both parties are complying and delivering on what was promised.
Save Time and Money
Optimizing your purchase order process will save you time and money. By improving overall efficiency of the entire process, your employees will each become more productive and be able to accomplish more with their workday. When certain tasks like approvals and requisitions can be automated and settings customized for approval, there will be a lot less breakdowns in the existing purchase order process structure, which helps the process run smoothly without hiccups and bumps in the road. With improved budget management, you can easily make decisions that directly benefit your business to save money and increase day-to-day efficiency.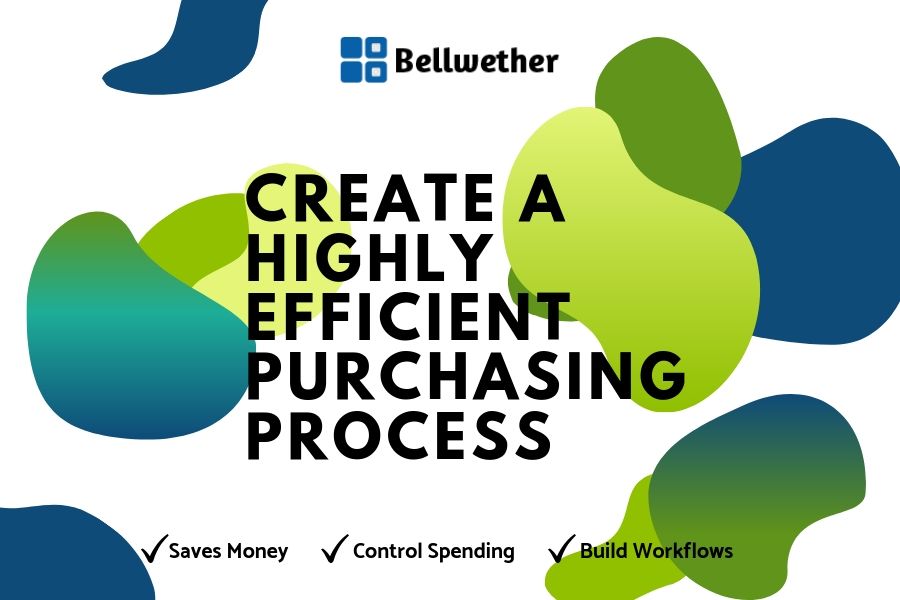 Steps to Improve your Purchase Order Process
Improving your purchase order process will positively impact your business drastically to help you streamline workflows and increase efficiency in many areas. Improving your purchase order process may seem like a stressful, time-consuming task, but it can be made simple with these steps:
Assess existing process and workflow
Your existing purchase order process will be able to tell you a lot. Tracking the day-to-day of the current process will help you see all of the issues your workflows face and brainstorm solutions. Whether you use a manual PO system or older procurement software, it's important to note the bugs that are stunting your business's efficiency. Assessing your existing workflow is simple. Shadow the person who handles purchase orders the most within your company for a day to see how they are currently performing certain tasks. Make sure to ask all of the questions necessary to give you the best idea of how current workflows perform.
Establish a Preferred Vendor List
You can easily improve communication across your business with a supplier directory that contains quality information on different vendors. This way you will keep all decision makers on the same page when it comes to vendors and all aspects of the purchasing process. You'll also be able to more easily track information for finances, reporting, and data analytics to improve your business strategy when it comes to your vendors.
Develop Beneficial Buyer-Vendor Relationships
Get to know your vendors and optimize those relationships by taking a look at key metrics, purchase history, payment history, and your costs to keep these vendors coming back. You can optimize relationships by keeping other crucial information like service terms fresh in your mind to better build and maintain relationships. This information can also be used by your customer service team to enhance overall customer experience so that they have the correct information on-hand when and if a customer has questions.
Improve Information Access
Make sure everyone involved in the purchase order process, from customers to your management team, has the right information. Making sure the employees that deal with procurements on a daily basis have access to the necessary information, such as pricing and the preferred vendor list, can streamline workflows.
Define and Refine the Approval and Requisition Process
If you don't have a clearly defined approval process, you'll find that the day-to-day workflow has unnecessary issues with efficiency. If certain vendors, requisitions, and prices need to be approved, creating a clearly defined approval process will streamline workflow and help solve disruptions throughout the entire process.
Automation
Automate as many manual processes as you can to improve efficiency in the day-to-day and streamline your current workflows. Automation will also help reduce errors, handle document management and approvals, and improve decision making at every level of your business.
Use Technology
Purchase order software will help you streamline workflows to make your current purchase order process more efficient and improve productivity throughout the entire process. Not only can they help automate approvals and requisitions, purchase order software should have 3-way matching to match invoices with POs to automate the procurement process when possible and save your business time and money by eliminating redundant, time-consuming tasks. No matter which technology you choose for your business, you should make sure that the program can integrate with the others you're using to streamline all workflows and make the purchase order process as simple and easy as possible for your business and employees.