The procurement process can be complicated, which is why many businesses are still using spreadsheets and manual processes to control and manage their purchasing. Strategic procurement spans across all different departments of an organization. A successful procurement process is crucial for keeping costs down and making businesses more efficient. An effective procurement strategy includes a financial plan which helps manage budgets, workflows, and production timelines to keep everything aligned with the business objectives. 
Without a defined process, it will be challenging to keep the daily functions of a business efficient and productive. It will also be near impossible to stay on budget. While every strategy should be tailored to the individual business, it should consider the company's current status, stakeholders, market conditions, and company goals. 
These are the goals of a procurement strategy:
Minimize opportunities for lost savings 

Identify authorized buyers

Align purchasing and company objectives

Increase efficiency

Leverage supplier relationships 
Here are the steps you can take for a successful procurement process:
1. Purchase procurement software
By not integrating procurement software, you could be losing money from errors, delays, and even overpayments. Procurement software increases productivity while minimizing errors and reducing the need for data entry and redundancy. You can also track purchases from purchase order to payment, eliminate the need for waiting on approvals, create invoices from PO's, and use the data for all parts of business operation. 
2. Assess your current business
Know how the company is doing at this very moment before moving forward. If you have a strategy in place or are currently using spreadsheets or inexpensive accounting software, determine if this software is meeting your needs. If your business is growing, assess whether these purchase order software systems will be able to meet your future needs when it comes to inventory, invoicing, and accounting. Identify any weak areas of the procurement process that need improvement and look for areas where the money is being wasted. 
It may also be beneficial to talk to all of your employees involved in the purchasing process so that they can give you an idea of their day-to-day and what maybe disrupting the process. 
3. Talk to the stakeholders about a new procurement strategy
The stakeholders will need to be involved when you are refining, or even defining, your procurement process. Make them understand the goals and sell them on the idea of a speedy turnaround and better production time, with more efficient workflows, reduced errors, and significant cost savings. 
4. Define Goals
While the goal of your business may always be to make money, your strategic goals should be detailed. How will you make more money? A well-defined goal includes a target and a plan. A goal could be, for example, increasing sales by x percent. You should always make sure your goals are measurable and realistic. The best way to measure your results is by using that procurement software we discussed that will provide you with analytics to let you know how your business is doing.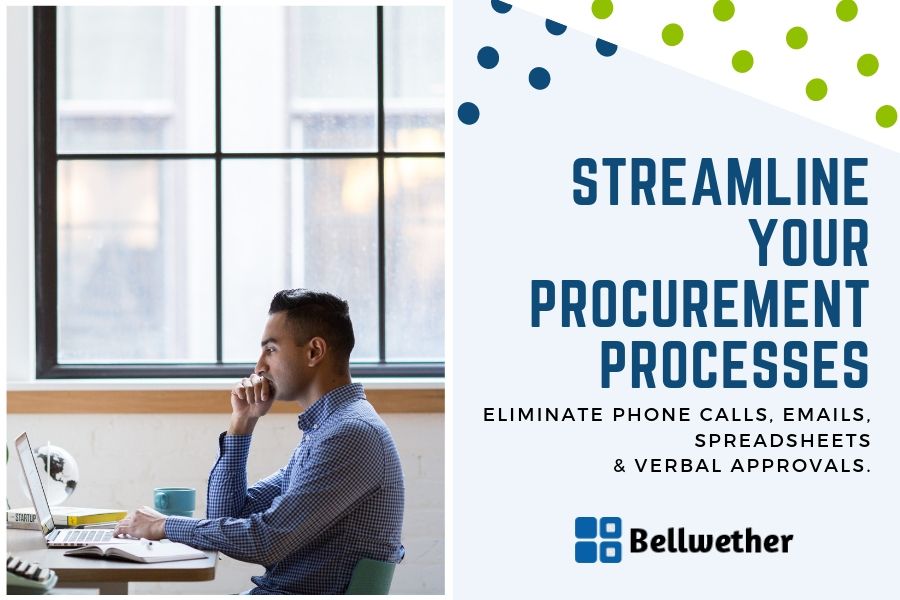 5. Priorities
It's time to determine how to prioritize purchases. This process will vary from business to business. If you're a retailer, for example, you'll need to work with the marketing department to determine which goods should be pushed and when. Lucky for you, purchase order software allows you to more effectively communicate across departments with data that can affect your priority decision making. 
6. Define and Refine your Policy
You should make a list of authorized purchasers and a budget for each department so that it's clear who is allowed to spend and how much. Expected purchases can be approved automatically using purchase order software, eliminating any wasted time that could be detrimental to a business relationship. 
Define specific guidelines for each department when it does to procurement. This should include which suppliers are preferred, what would need approval, and who would provide approval. 
7. Look at your sourcing strategy
If you're in search of new suppliers, you should typically take bids from three or more suppliers. In order to take on new companies, you will need to refine your sourcing strategy. The policy should specify the criteria used to determine which suppliers are chosen. This criterion should include, supply quality, price, delivery times, service, compliance with regulations or company objectives, or anything else you value in a supplier. 
You should already have a preferred vendor list that you crafted by evaluating suppliers based on specific criteria. If you think your list could be negatively impacting your business, it may be time to take another look and revise the requirements so that the purchasing decisions don't lead to lost sales.
When it comes to negotiations with vendors, it's essential to select the right bid. The lowest bid may not always be the cheapest option in the long run. If you go with the lowest bid and don't have a strategy in place, you may end up with cheap products and your customers may lose faith in your business. Make sure your criteria cover all potential issues that can arise from a poor vendor relationship. 
8. Determine success metrics
Once you have executed your plan, your new procurement process should be evaluated so that you can determine its success. Common metrics include:
Deceased costs due to the reduction of errors

Efficient delivery schedules

More favorable contract terms 
Once you're able to take a look at the metrics, you can continue to fine-tune your strategy as necessary to enhance the process as your business grows. 
You can also use purchasing software to determine even more analytics that can help you measure success. You'll be able to see where any breakdowns within the company occur and come up with a data-based solution to fix the issues.
Your procurement strategy should be a roadmap for business spend and used to maximize the budget and minimize errors, late payments, maverick spend, and anything else that may negatively impact the procurement process, and in turn, business relationships.